The SimplePractice Client Portal mobile app lets you easily manage your upcoming appointments and request new ones from anywhere, at any time.
Below, we'll cover:
Note: To use the mobile app, you must have an active account on your clinician's Client Portal. If you're unable to sign in to the app, please contact your clinician to confirm your Client Portal access.
---
Requesting new appointments
If your clinician offers online appointment requests, you'll have the option to request an appointment through the app. To do this:
Under Appointments, tap Request Now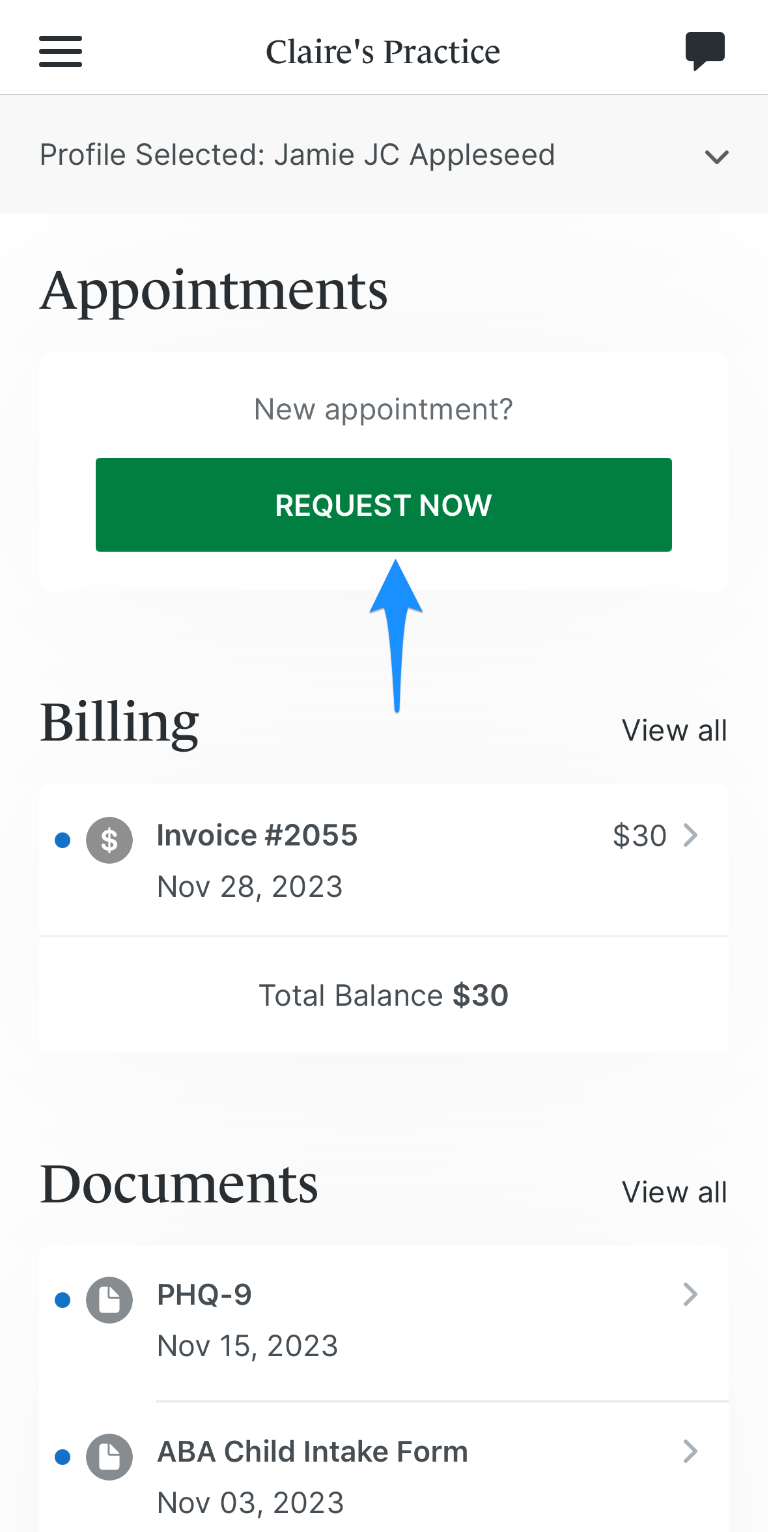 If there are multiple clinicians, select one and press Next
Select the service and tap Next
Choose a location and press Next

Select Video Office to request a Telehealth session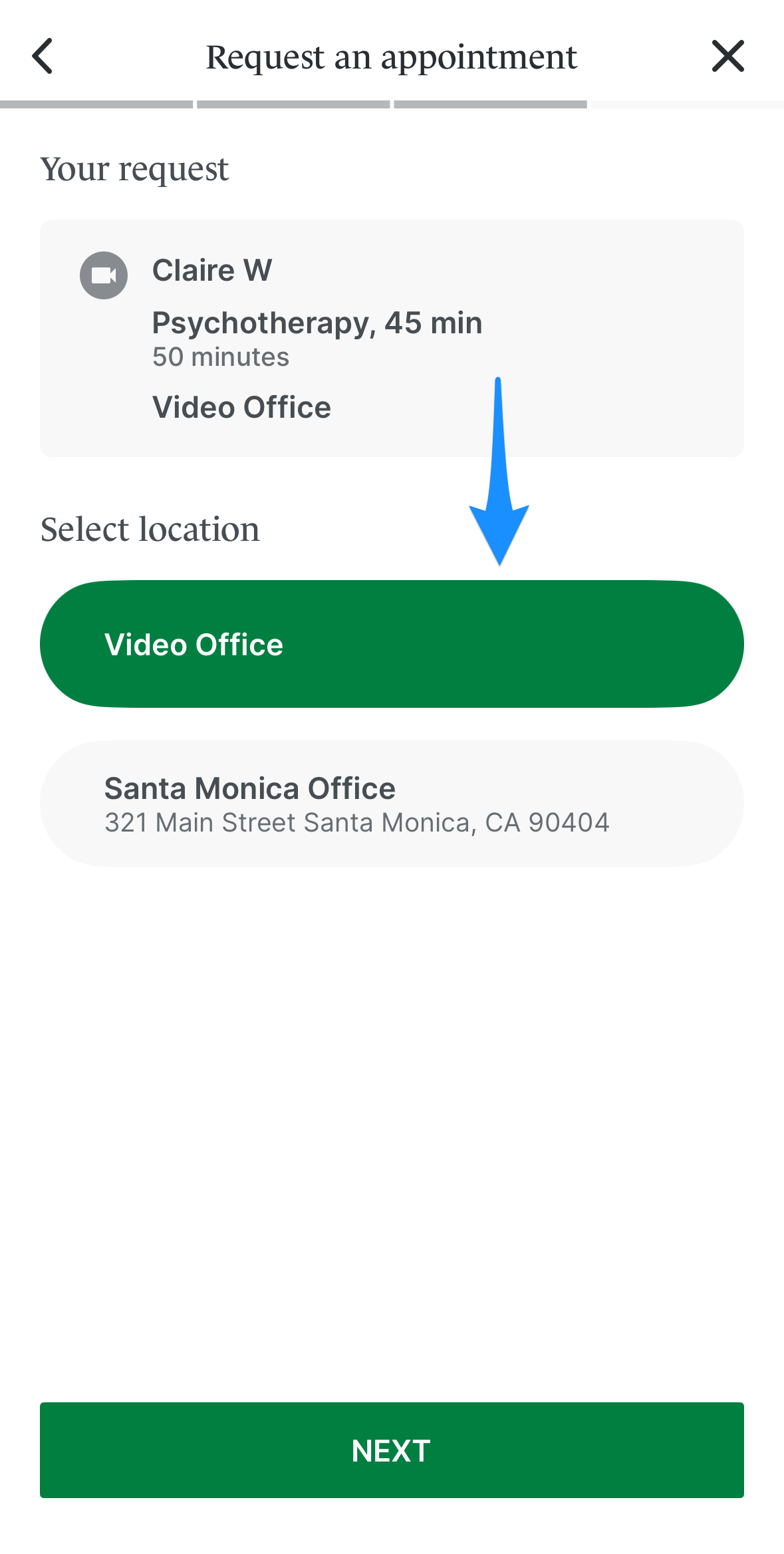 Select the appointment date and time


If a time slot shows a phone icon, you'll need to call your clinician to request the appointment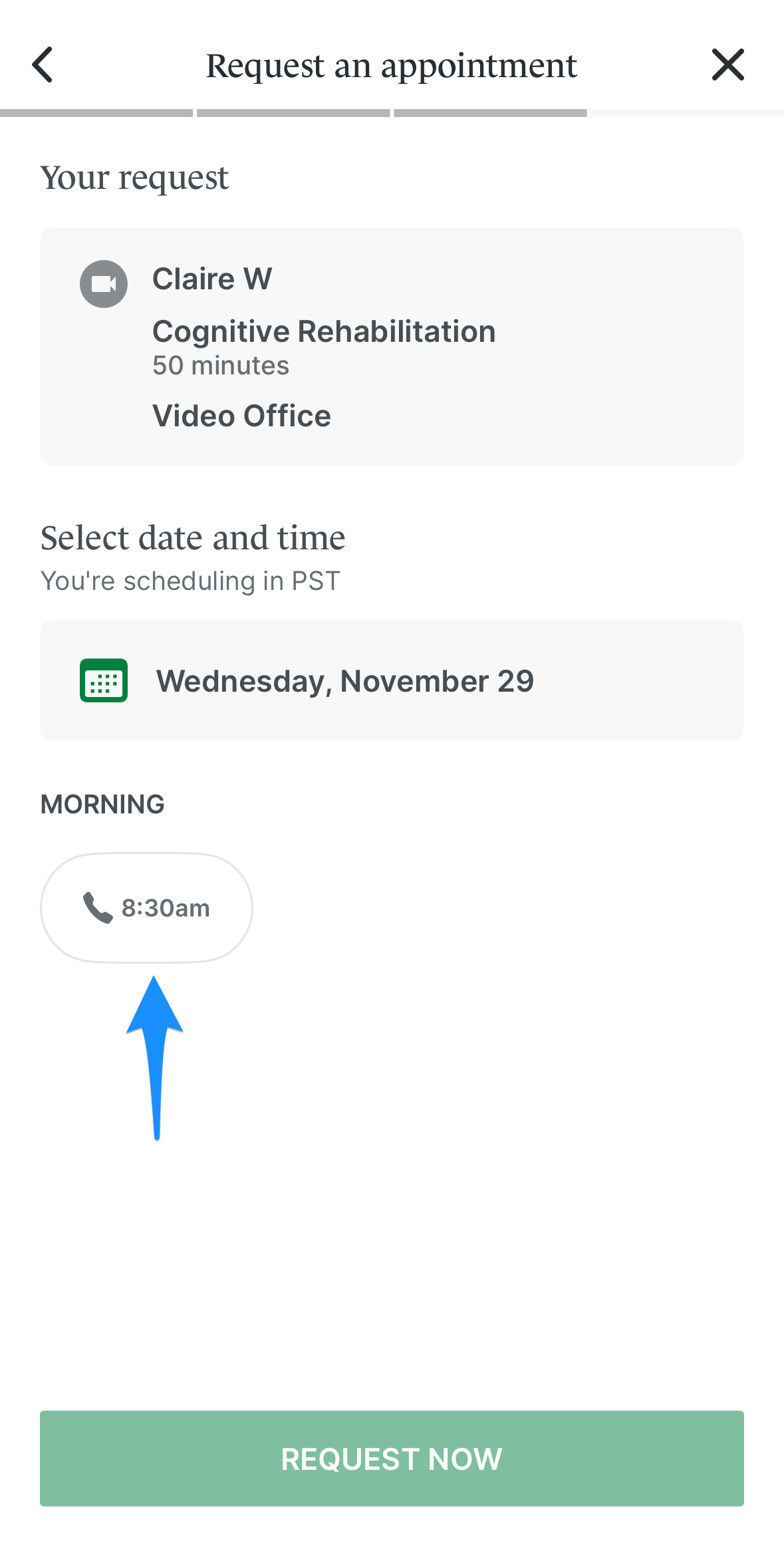 Review your request, then tap Request Now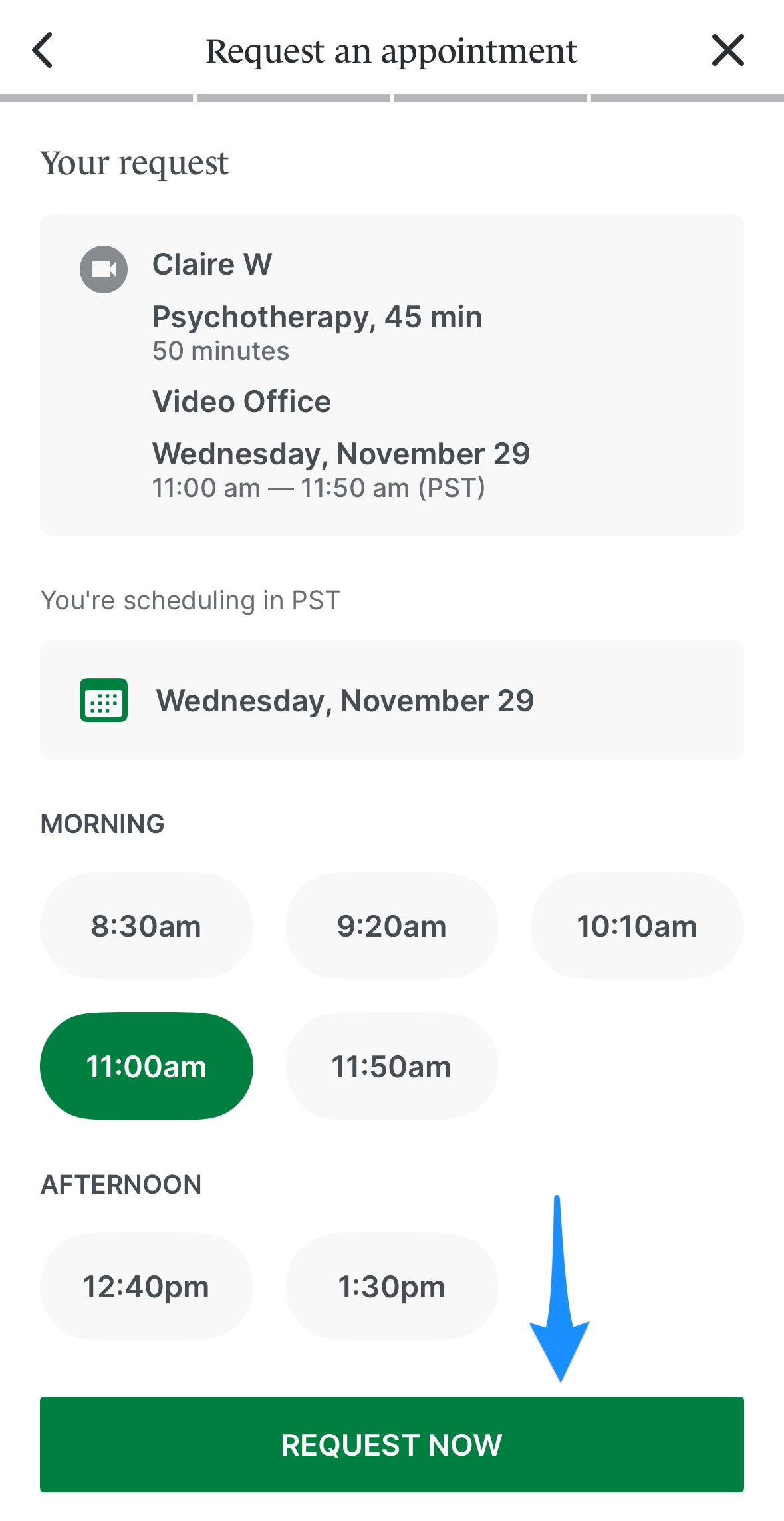 Your clinician will review your appointment request, and you'll receive an email notification when it's accepted or declined.
Note: Please reach out to your clinician directly if you have any questions about their availability.
---
Viewing appointment details
You can also view your past and upcoming appointments in the app.
Under Appointments, you'll see up to 3 upcoming appointments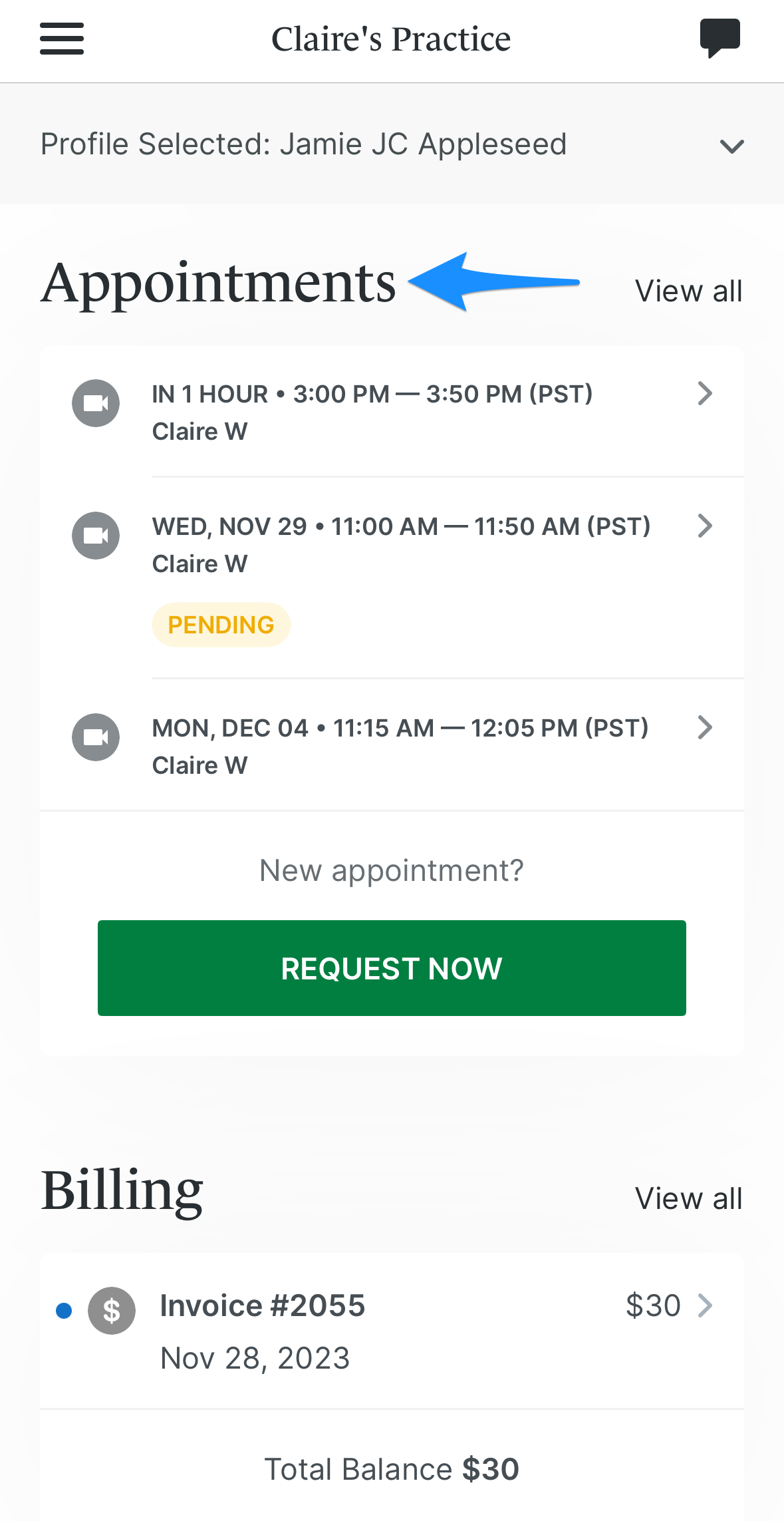 To see more appointments, tap View all
To view details for a specific appointment:
Select the appointment
An appointment details page will open with the following information:

The date and time of the appointment
The clinician the appointment is scheduled with
The location of the appointment

For video appointment, the location will be displayed as Telehealth Appointment
For in-office appointment, the address will be listed

The appointment status

If an appointment request is unconfirmed, it will be listed as Pending
If your appointment is in-person, you can get directions to the office location.
Tap

Get Directions from the appointment details page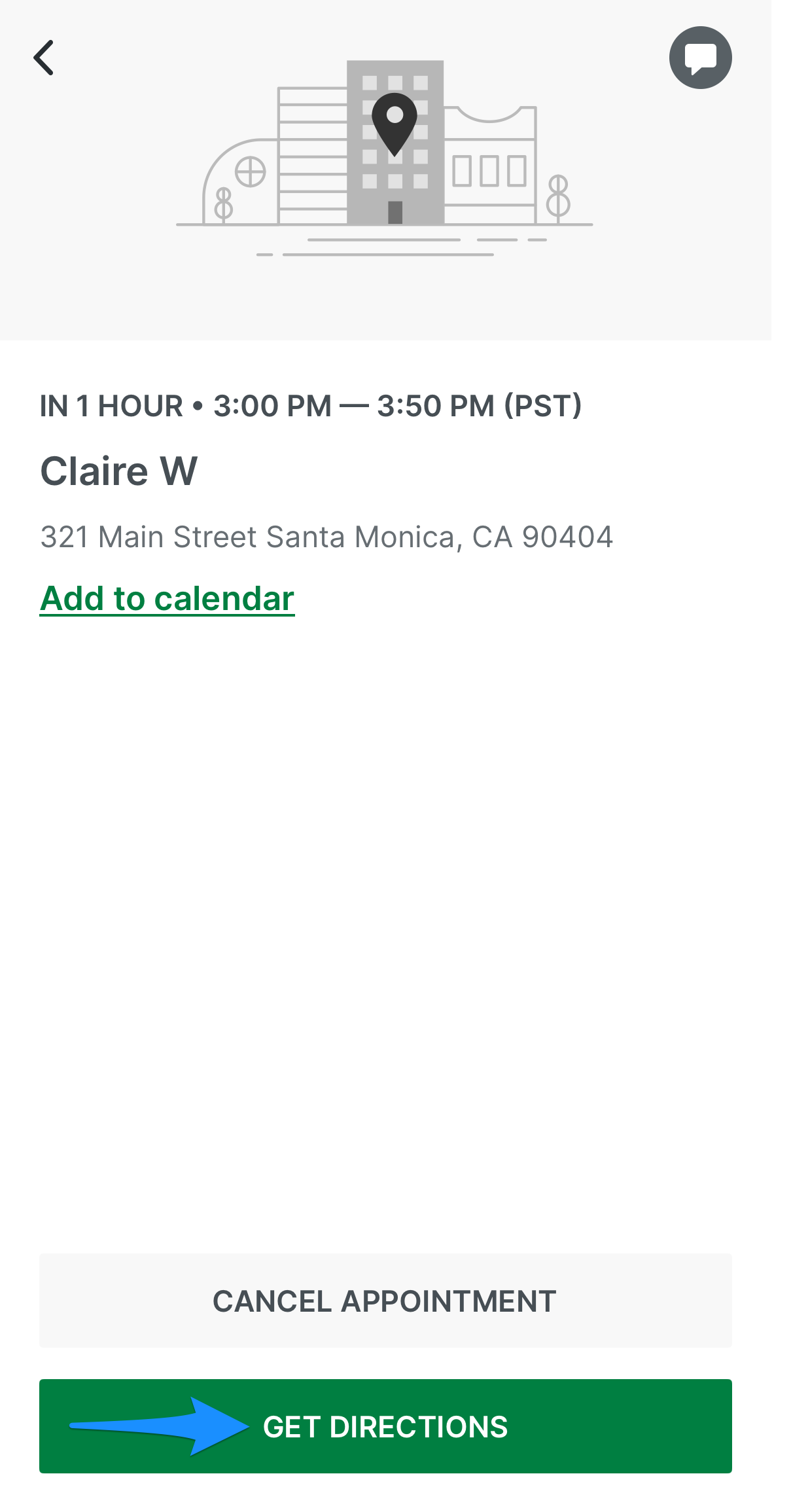 Select Apple Maps or Google Maps to open the directions
---
Joining a Telehealth appointment
You can also join Telehealth appointments directly from the SimplePractice Client Portal app. To do this:
Select the appointment
Tap Join Appointment

Note: This option won't appear if an appointment is Pending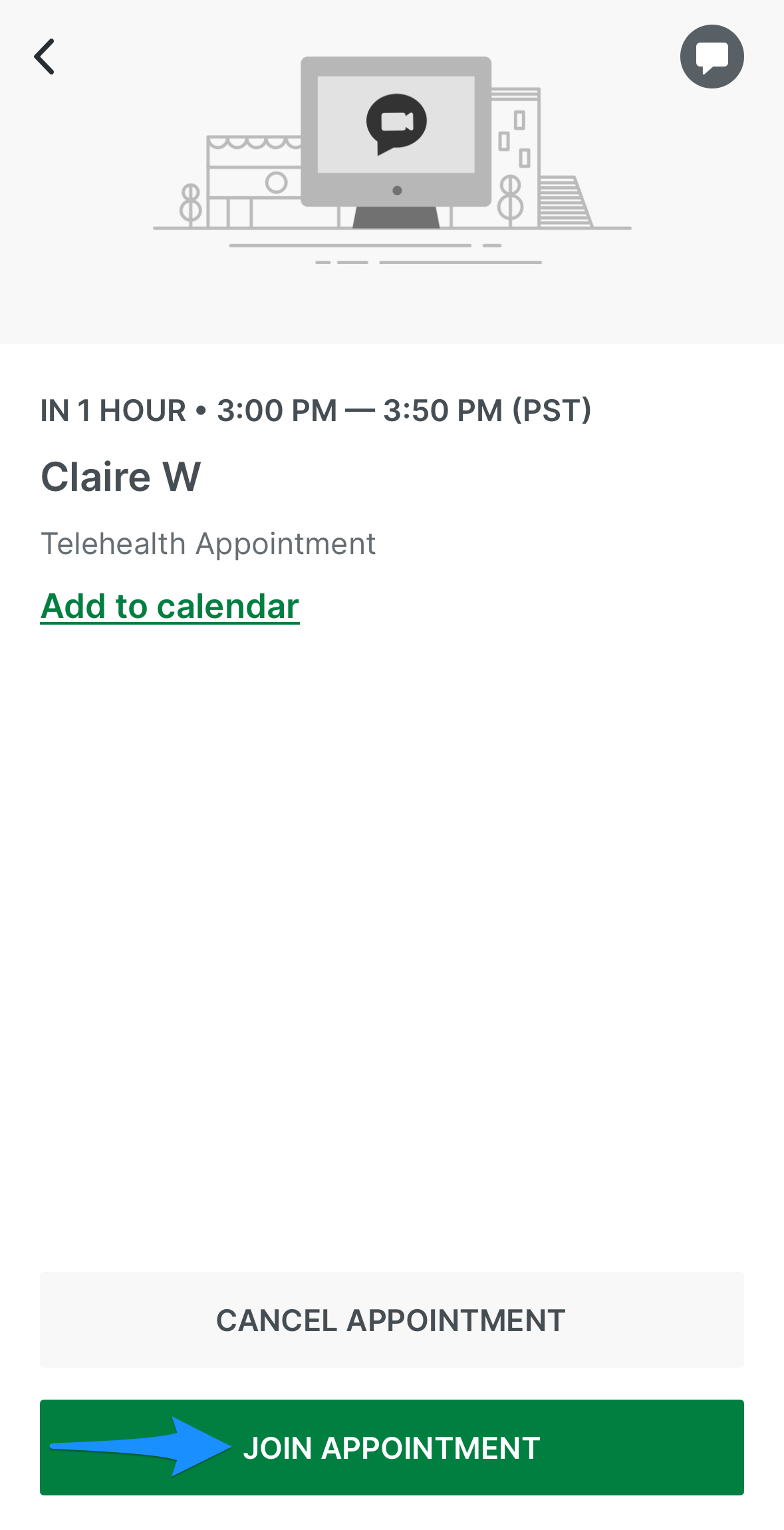 Allow the app to access the microphone and camera
Enter your name
Tap Ask to join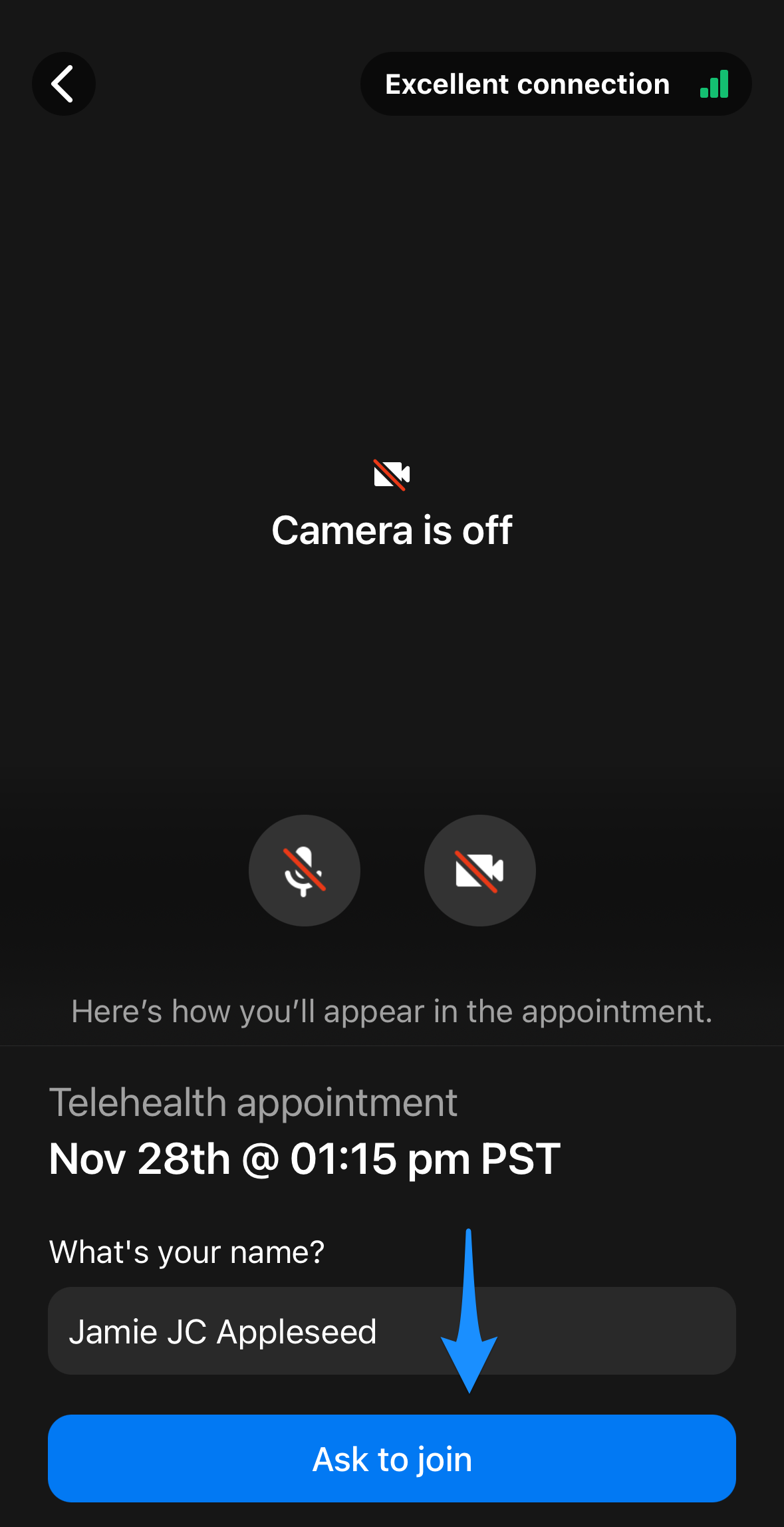 Alternatively, if your clinician sends you a link to join your Telehealth appointment via secure messaging, you can join by clicking the link directly.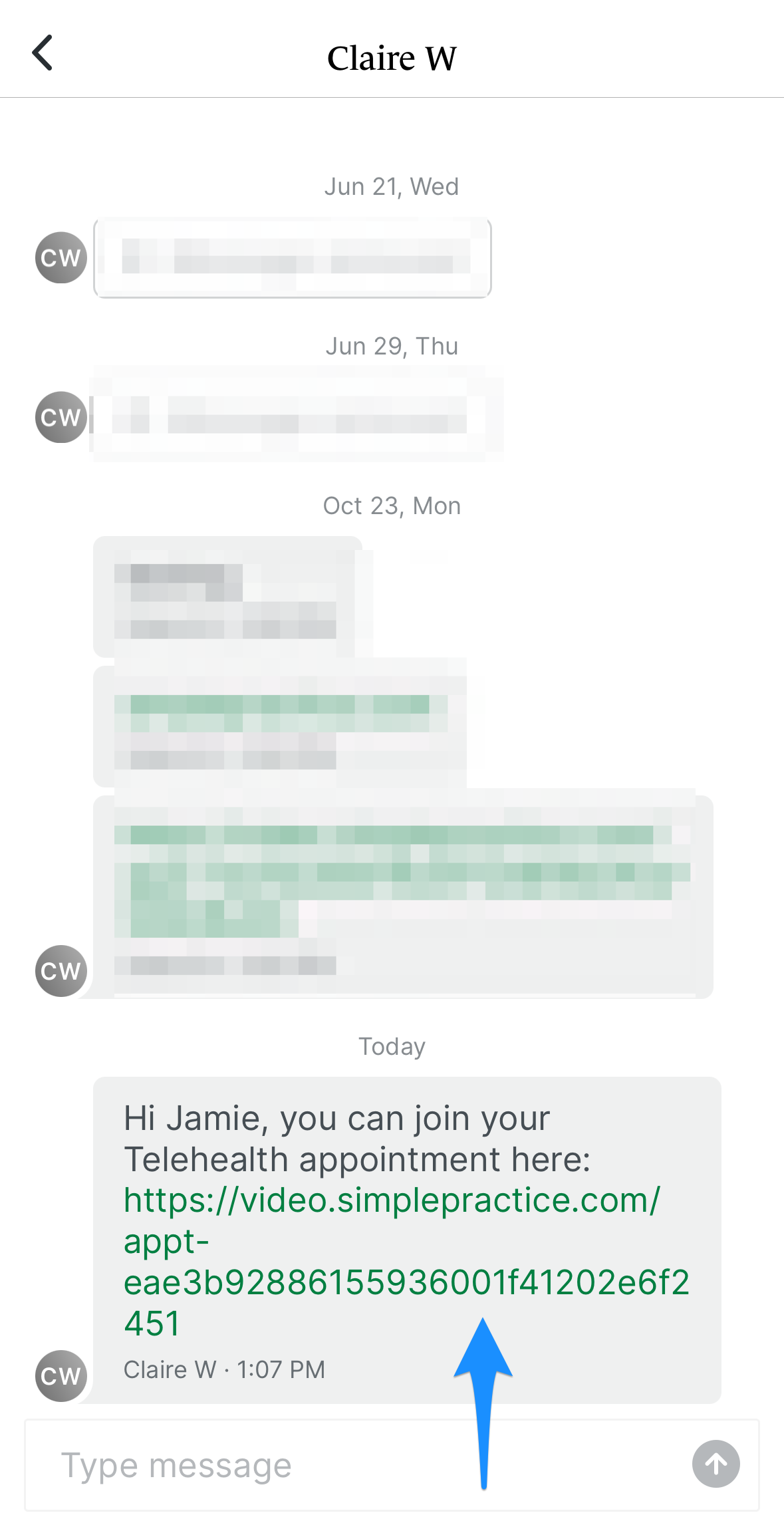 Note: For more information on Telehealth appointments, see Getting started with Telehealth.
---
Canceling an appointment
With the app, you can also cancel and reschedule upcoming appointments.
To cancel an appointment:
Select the appointment you'd like to cancel
Tap Cancel Appointment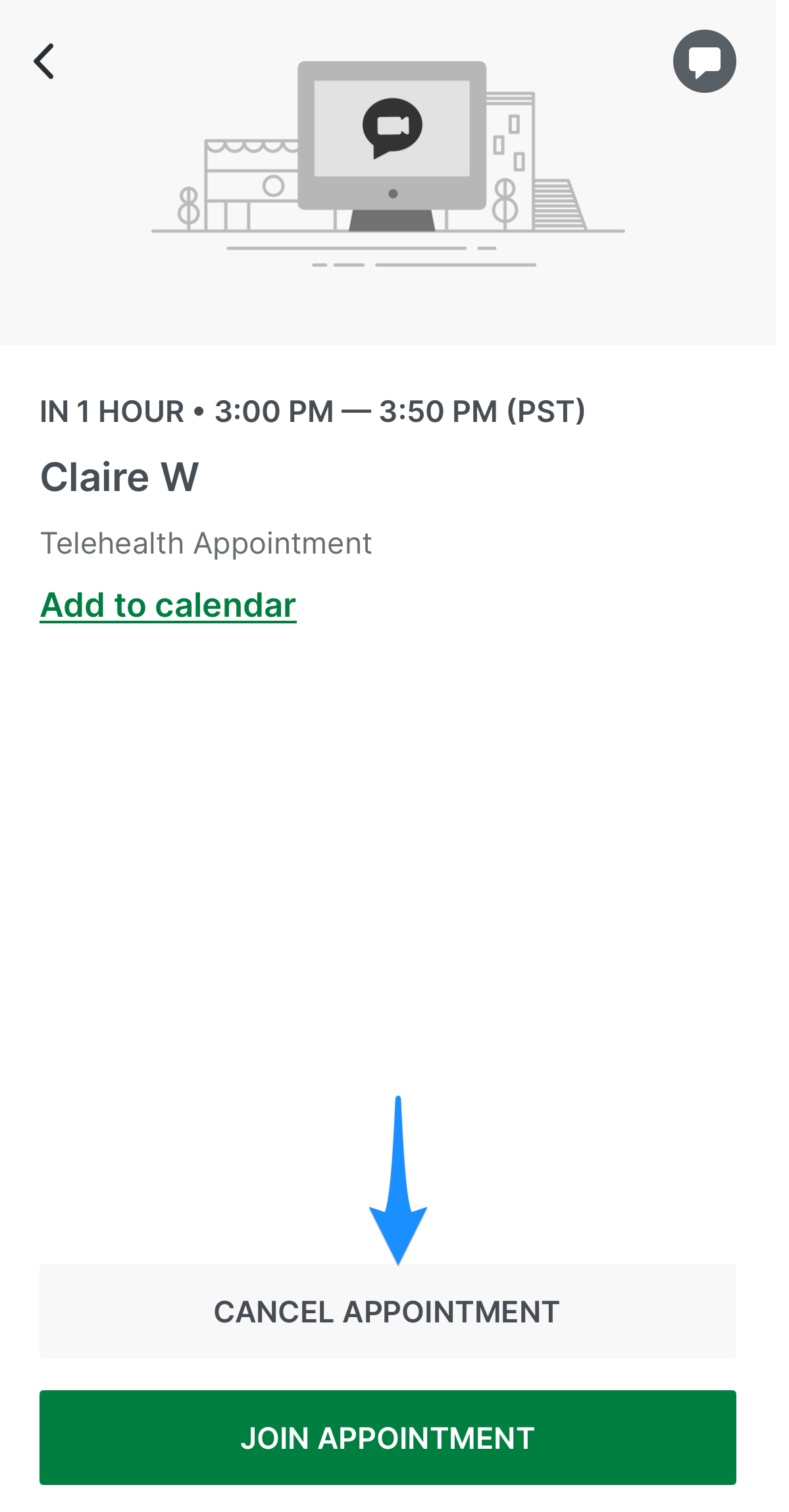 If an appointment is within the practice's cancellation window, you'll be able to confirm your cancellation by selecting Yes, cancel it
If the cancellation window has closed or your clinician doesn't permit cancellations online, you'll need to call the practice to cancel

To make this call, tap Call now
Note: If you've canceled your appointment and need to reschedule it, you can follow the steps outlined in the Requesting new appointments section. For help with rescheduling, please contact your clinician.